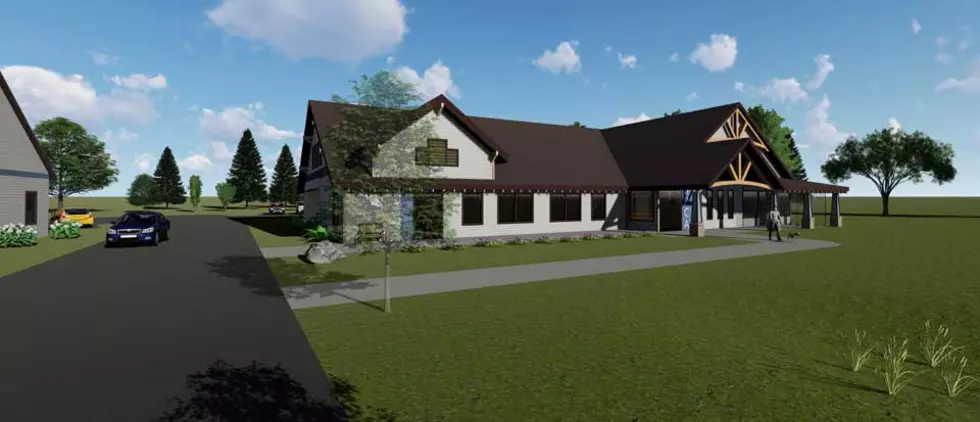 Local Carpenters Union Gives Warning to Susquehanna SPCA
Latest artist rendering for new Susquehanna SPCA shelter (Credit: AllOTSEGO)
As the Susquehanna SPCA looks forward to a new shelter building to house it's many dogs and cats, a shadow has crossed the project's path in the form of a labor dispute according to AllOTSEGO.
Ian Williams, a Council Representative for the North Atlantic States Council of Carpenters Local 227, along with two other union reps, held up a banner outside the building site on Tuesday. The banner read "Future Site of a Labor Dispute".
The reason for the banner being displayed? Williams tells AllOTSEGO, "We believe that contracts are going to be awarded to a company that pays non-area-standard wages and benefits. Our goal here is not to get to the point of a demonstration. We want to reach out to the owners and get a meeting in hopes that they give the project to someone who meets area standards." Williams believes that All Wall Builders out of East Syracuse will be awarded the contract and if they get it, union members will turn out in numbers to protest.
Meanwhile, Mark Lane, CEO, of William H. Lane Incorporated, who was hired by the Susquehanna SPCA to head up the shelter building project, says that no company has been awarded the bid yet for the carpentry. He also mentions that it's not a government project and therefore, not subject to the prevailing wage law.
Ground was broken on the new shelter early this spring and is expected to be finished by next spring.
For more on this story, provided in partnership with AllOTSEGO, click here.
More From WDOS-WDLA-WCHN CNY News