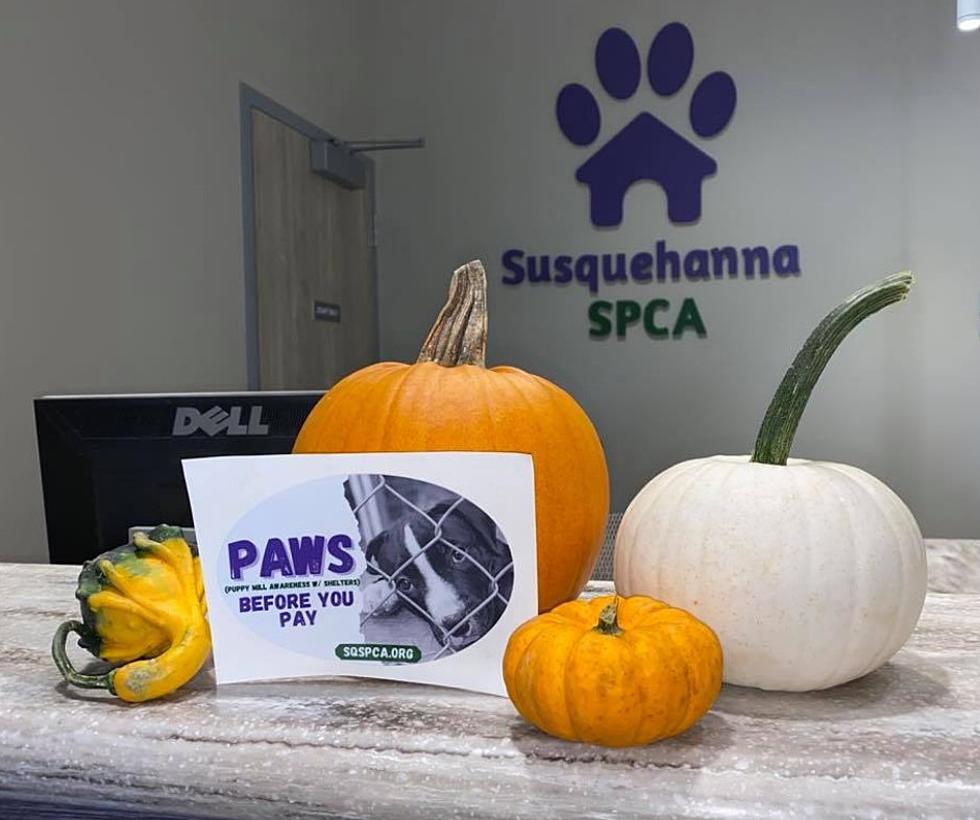 Susquehanna SPCA Shares How to Avoid Buying From a 'Puppy Mill'
Credit: Susquehanna SPCA
September is "National Puppy Mill Awareness Month" and as an animal shelter, the Susquehanna SPCA tirelessly saves homeless, neglected or abused animals every day but also part of their mission is to educate people looking to get a puppy, about puppy mills and how to avoid supporting those who own these inhumane pet businesses by not buying a puppy from a puppy mill.
That's why they have a program called that was launched in September of 2020 called "PAWS Before You Pay" which seeks to help those who are looking to buy a dog, learn to tell the difference between a responsible dog breeder and those running puppy mills. PAWS stands for "Puppy Mill Awareness With Shelters."
According to SQSPCA Executive Director Stacie Haynes, "Puppy mills are cruel and inhumane. Our shelter receives complaint calls and inquiries all the time about several puppy mills currently operating in and around Otsego County. Because these businesses are still legal, and because there is nothing we can do right now to stop them, the PAWS coalition believes it is vitally important that consumers have resources available to them to help determine whether they are dealing with a reputable breeder or a puppy mill."
What's so bad about puppy mills? They typically pack dogs into filthy, overcrowded, stacked wire cages and "caretakers" deny the animals healthy food, clean water,and basic veterinary care. It's common for puppy mill puppies to develop serious health and behavioral problems that are often expensive and difficult to treat.
You can also check out tomorrow (Oct. 2) a special "Fall of Puppy Mills" informational event hosted by the animal shelter that has been going on all this week. It's an opportunity to check out the new shelter on Rt. 28, just outside of Cooperstown and talk with SQSPCA staff who can provide information and resources on how to find a responsible dog breeder, and how you can help stop puppy mills.
To find out about the PAWS initiative and learn more about puppy mills and how to avoid them, visit SQSPCA.org.
RANKED: Here Are the 63 Smartest Dog Breeds
Does your loyal pup's breed make the list? Read on to see if you'll be bragging to the neighbors about your dog's intellectual prowess the next time you take your fur baby out for a walk. Don't worry: Even if your dog's breed doesn't land on the list, that doesn't mean he's not a good boy--some traits simply can't be measured.
LOOK: Things from the year you were born that don't exist anymore
The iconic (and at times silly) toys, technologies, and electronics have been usurped since their grand entrance, either by advances in technology or breakthroughs in common sense.
See how many things on this list
trigger childhood memories—and which ones were here and gone so fast you missed them entirely.
More From WDOS-WDLA-WCHN CNY News