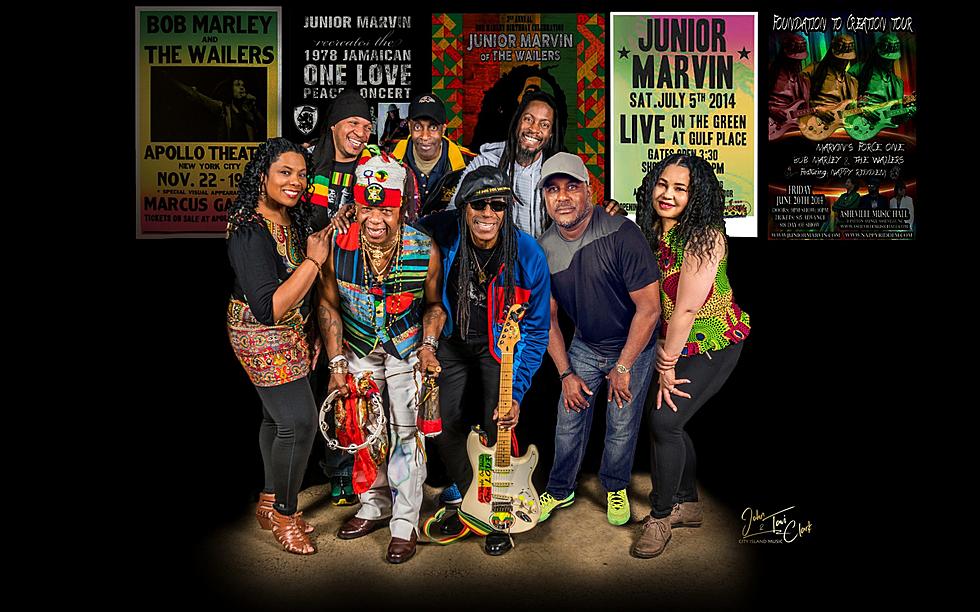 Your Bucket List Show Is Coming To Oneonta: The Legendary Wailers With Beloved Bob Marley Songs
The Legendary Wailers (Credit: www.paradiseartists.com/artist/the-legendary-wailers)
If you're as big a Bob Marley and the Wailers fan as I am, then you'll be excited to learn that The Legendary Wailers will be coming to Oneonta's Foothills Performing Arts Center thanks to Destination Oneonta on Friday, October 15. If you can believe it, tickets are only $10 a person and it's an all-ages show!
Here's a little background on the Legendary Wailers since Bob Marley's passing on May 11, 1981. The band's lead guitarist, Julian Junior Marvin stepped up as bandleader, singer, and musical contributor following Marley's death and has been touring ever since.
Julian Junior has been lauded as a guitarist and is included in Guitar World Magazine's "Top 100 Guitarists of All Time" for his guitar solo on "Africa Unite" from the Bob Marley & the Wailers Survival album.
After touring with many incarnations of The Wailers since Bob Marley's passing, Julian Junior has created his own unique version of The Wailers, playing and singing Bob Marley & the Wailers hit songs the way Bob intended them to be heard and that's the fun experience you can expect at Foothills on October 15 with the Legendary Wailers.
It's a good idea to get your tickets early since Destination Oneonta expects this show to sell out. Tickets are available now at DestinationOneonta.com. The opening band will be the popular Cooperstown-based band Hanzolo, known for performing classic rock, hair-band covers.
CHECK IT OUT: Top 100 '70s Rock Albums
Forgotten First Albums: Rock's 61 Most Overshadowed Debuts
More From WDOS-WDLA-WCHN CNY News