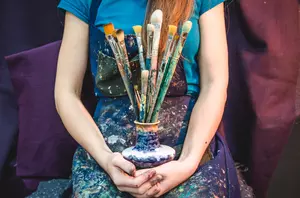 Roxbury Arts Group Features Exciting New Exhibit by Neil Driscoll
Getty Images/iStockphoto
The Roxbury Arts Group will highlight a new exhibit of the works of Neil Driscoll titled "This World Still Exists."  The group's website describes Driscoll's work as art "that preserves and conveys spontaneity, impulse, light, color, motion and good humor, elements that Driscoll hopes still exists in the world."  Neil Driscoll received his artistic training at the Memphis Academy of Art and the Art Institute of Chicago during the 1960's. 
The exhibit opened with a reception on August 1 and will run through September 12.  The exhibit can be found at the Walt Meade Gallery Roxbury Arts Center 5025 Vega Mountain Road, Roxbury NY  Please call in advance for exhibit details as well as COVID-19 safety requirements.
The phone number is (607)326-7908 and the gallery website can be found by CLICKING HERE.