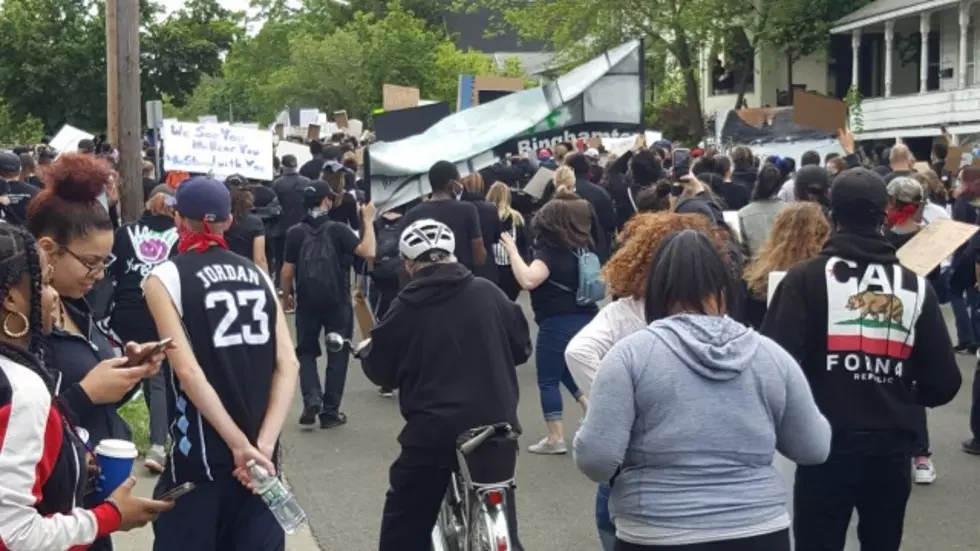 Protesters March in Binghamton Motivated by the Death of George Floyd
WNBF News/Roger Neel Photo
An estimated 1,000 people gathered in Binghamton Sunday, May 31 to protest the killing of George Floyd in Minneapolis.  Floyd, an African-American, was arrested, handcuffed and pinned to the ground for about nine minutes. Video recorded by an onlooker revealed one of the white arresting officers had pinned Floyd down with a knee to the neck leading to his death. The officer has been charged with third-degree murder and manslaughter.
Enter your number to get our free mobile app
Crowds gathered shortly after noon in front of Binghamton High School and near the Court Street Bridge in the area of the Dr. Martin Luther King, Jr. Promenade.  After marching down Court Street the protesters joined to head west  on Main Street to Recreation Park on Binghamton's West Side.
Several speakers addressed the crowd. Some led the crowd in several different chants including "Black Lives Matter" and "No Justice No Peace".
There were no visible signs of violence. Protesters were peaceful with many appearing to be of high school or college age.  Many carried signs. There was a heavy police presence around the downtown, on Main Street where the protesters marched and on the perimeter of Recreation Park.  At no time did there appear to be any aggression from either the protesters or the police.
Following the gathering at Recreation Park the crowd retraced its steps and headed back through downtown Binghamton. Binghamton Police blocked off a portion of Main Street and the intersections on the West Side that were on the route to Recreation Park. As of 4:00 PM protesters were still visible around the downtown but there was no indication of any violence.  Police are keeping a close watch on the area tonight and overnight.  There is concern over protesters from out of the area moving in to turn a peaceful situation violent exist. That has been the situation in other cities and town around New York state and elsewhere around the country.
SEVEN SIMPLE WAYS TO COPE WITH ISOLATION
More From WDOS-WDLA-WCHN CNY News