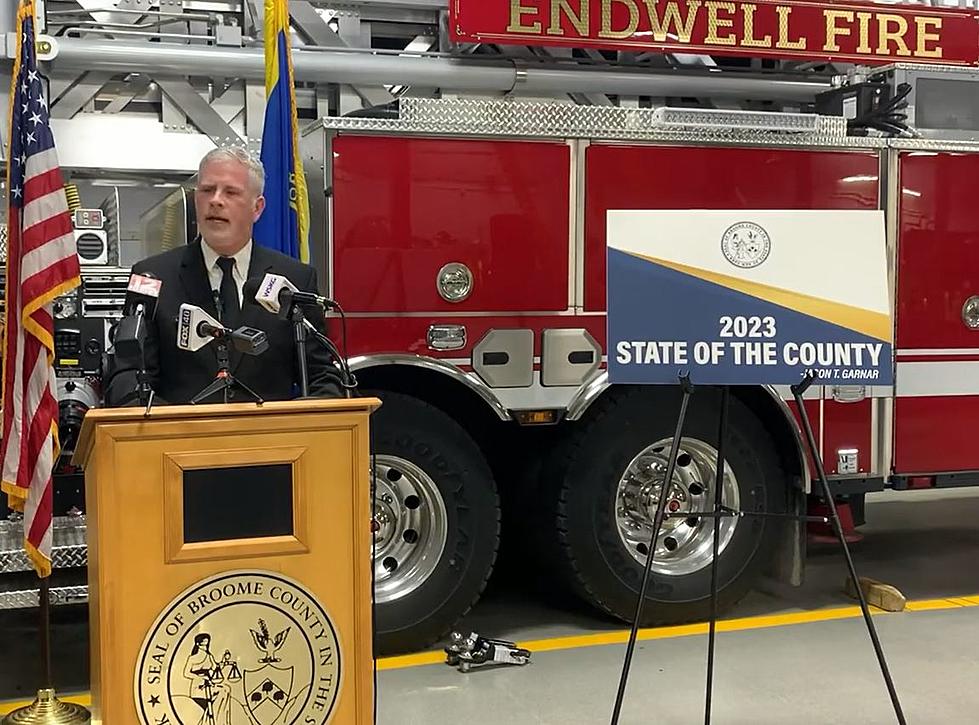 First Responders Highlighted in Broome County State of the County Address
via Jason Garnar
Broome County Executive Jason Garnar delivered his seventh State of the County address on Wednesday, February 22, 2023.
Garnar's address was delivered in front of guests at the O.L. Davis Fire Company in Endwell and Garnar began his address by thanking all first responders and first responder agencies in Broome County, saying we "owe them a debt of gratitude."
After thanking first responders, Garnar said that last week, the Broome County Legislature passed a new resolution that will provide Broome County first responders with a property tax exemption.
Garnar discussed the importance of making sure Broome County residents and visitors feel safe. One way the county is working on that is through the recent replacement of the public safety communications network which was over 50 years old. Garnar said that the new system will allow emergency response to happen even faster.
Continuing on the topic of safety, Garnar noted that Broome County was one of the first in the state of New York to introduce the school bus stop camera program saying, "to date, this program has recorded more than 4,000 violations; an unacceptable number of times drivers have chosen to break the law and put our children in danger."
Garnar noted that crime in Broome County is on the decline, down 17 percent from where it was in 2017, however, he said, "our work is not done. We will continue supporting law enforcement and I'm looking forward to building on our efforts to create a safer community with our new Sheriff, Fred Akshar."
"Community is defined as a unified body of individuals with common interests, living in a particular area. Garnar said. "Whether it's a fire department in Endwell, a school in Whitney Point, a ball field in Binghamton, or a church in Windsor, we are a collection of many small communities that share the same values and goals."
In his State of the County address which you can watch in its entirety here, Garnar also pointed out that Broome County is actively supporting dozens of major economic development projects and highlighted some of the transformations taking place around Broome County including Oakdale Commons and Victory Lofts as well as eyesores being demolished to make way for new housing, and businesses taking over long-vacant spaces.
Get to Know 25 Influential Political Figures With Ties to Binghamton
Binghamton is steeped in history and known for producing talented
actors and actresses
,
athletes
, and
musicians
. However, Binghamton has also played a big role in the lives of some very impressive political figures. From a governor to town namesakes, these are 25 notable political figures of past and present with ties to the Binghamton area.
Upstate New York Road Trip: Spotlight on Broome County!
We continue with our series of county spotlights with a closer look at Broome County. The county has a population of about 200,000 residents, with a quarter of them (50,000) living in and around the county seat of Binghamton. Home to fine schools including the State University of New York at Binghamton, one of the system's four university centers.
The county has many small town and villages as well as the larger cities of Binghamton, Vestal, Johnson City, Endicott, and Endwell. These smaller places include Chenango Bridge, Windsor, Deposit, Harpursville, Whitney Point (home of the Broome County Fair), and others. The county covers over 700 square miles.
Here is a list of 21 things to do and see to make your trip to beautiful Broome County enjoyable.