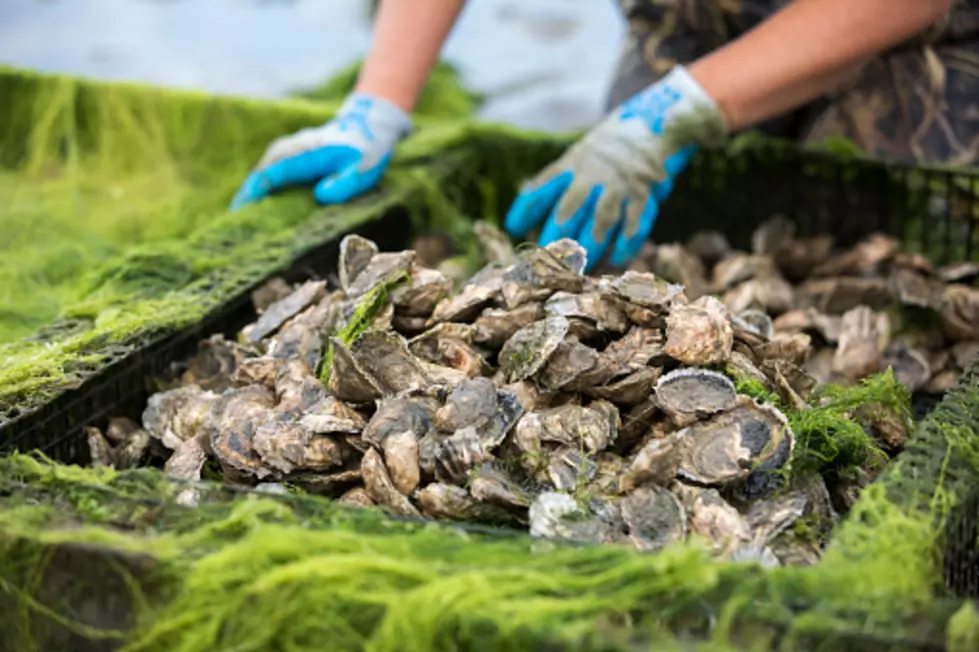 Gov. Hochul Vetoes Seaweed Bill To Help New York Oyster Farms
Getty Images/Cavan Images RF
Oysters are delicacy enjoyed by people around the world. Whether it's on raw on the half-shell with some lemon, fried to perfection with Old Bay seasoning or sautéed over pasta with wine and garlic, the pearl generating shellfish are loved globally. Oyster farming is nearly a $70 million agriculture industry in New York State. The tasty mollusks also happen to be environmental clean-up dynamos. Currently, tens of millions of the shellfish, not to be consumed by humans, are being used as a natural filter for the polluted waters off of New York City. However, an expansion of a project that has shown to increase the growth of consumable oysters in New York waters has been shelved by Governor Kathy Hochul.
In 2021, Hochul approved a "pilot" project by researchers from Stony Brook University's School of Marine and Atmospheric Sciences. According to newsday.com, the project grew large areas of kelp, a native seaweed in New York waters, close to developing oyster farms. The research showed that the increased kelp coverage "sharply increased the oysters' growth by reducing acidification. Without it, the study found, shellfish growth was stunted by acidification, which is caused by increased levels of carbon dioxide dissolving into the oceans." A bill to expand the project, involving the leasing of additional New York State underwater land, was passed recently by the NYS Legislature.
However, according to newsday.com, Governor, Kathy Hochul has vetoed the expansion. "Assessing potential environmental conflicts, commercial and recreational user conflicts and spatial planning must be undertaken before further leasing is considered. It is premature to consider a broader leasing program for seaweed aquaculture on state-owned lands at this time, as the state is still considering the pilot program," the governor wrote in a statement that accompanied the veto. I agree that projects should be vetted before being expanded. However the research and results that have been found early on, cannot be ignored. This project could have far greater impacts than just on the oyster industry for New York State. Kelp growth could help seafood supplies around the world.
LOOK! Built in 1940s 30 Acre Lake George Resort and Private Island Sells for $10.7 Mil
The Canoe Island Lodge was built in the 1940s and the home is the original lodge. The 30-acre resort sold for $8 mil. There are impressive log accents and hand-sewn beams throughout. The main lodge is being sold completely furnished. The great room boasts a custom stone fireplace and a huge banquet/dining room along with a full bar with lake views. There are 6 bedrooms, 4 full baths, and 4 half baths. The Tyrolian Room downstairs is a seasonal room with a beautiful stone fireplace and a huge dance floor. There are multiple cottages that can be rented out. The beachfront sits on the shores of Lake George with beach chairs and a rooftop deck for entertaining. The island that is part of the property sold for an additional $2.7 mil. Both were sold to the same owner.
Look Back at All of the Capital Region Concerts of 2022
From Classic Rock to Comedy, this is what 2022 sounded like in the Capital Region.
For Sale: The $18M Palace of a Saratoga Springs Socialite!
Famed Riggi Palace for Sale! See inside the exquisite estate of a Saratoga socialite and her late husband, for sale in Saratoga County. This home is once again listed and back on the market, so if you have a cool $18M burning a hole in your pocket, it may be worthy of a walk-through.
More From WDOS-WDLA-WCHN CNY News