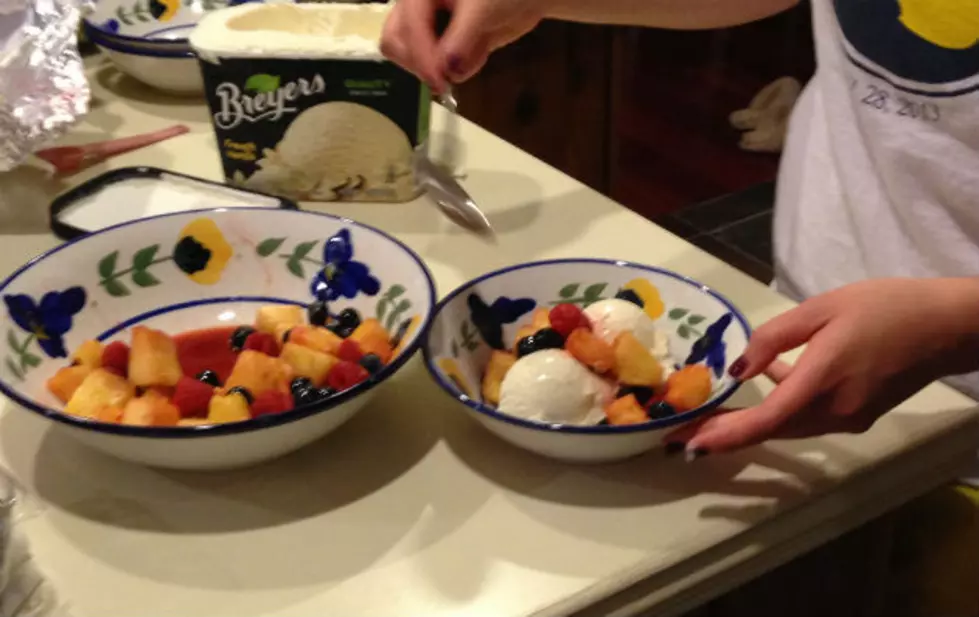 Emily the Intern's Pineapple Berry Pack Dessert
TSM
This time of year people everywhere are heading outside to barbecue their dinners. But why not try to barbecue your dessert as well?
I found this recipe in a magazine I was flipping through and thought it would be and delicious and interesting take on a  summertime dessert.
It was really easy and really only took 15 minutes from preparation to plate.
Here's what you'll need:
Aluminum Foil
Cooking Spray
2 cups of chopped fresh pineapple
1 Tbsp. & 1 tsp. packed light brown sugar
½ tsp. ground ginger
1 cup fresh raspberries and/or blueberries
1. Prepare grill and foil
Preheat grill on medium. Fold a 36" x 18" piece of foil in half to make an 18" square and spray with cooking spray. 
2. Chop fruit
Cut pineapple into chunks and pile the chunks with the berries in the center of the foil.
3. Add sugar, ginger
Sprinkle fruit with the tablespoon of brown sugar and ginger.
4. Wrap fruit
Bring left and right edges of foil together over fruit. Fold over twice and crimp to seal. Bring up opposite edges and repeat, sealing packet completely.
5. Grill
Place packet on grill rack and cook, uncovered, for 10 minutes, carefully turning halfway through.
Remove packet from grill. Carefully open packet and scoop fruit into a serving bowl. Stir in additional fresh berries and sprinkle with the remaining teaspoon of brown sugar.
7. Serve
Serve warm over vanilla ice cream.
More From WDOS-WDLA-WCHN CNY News