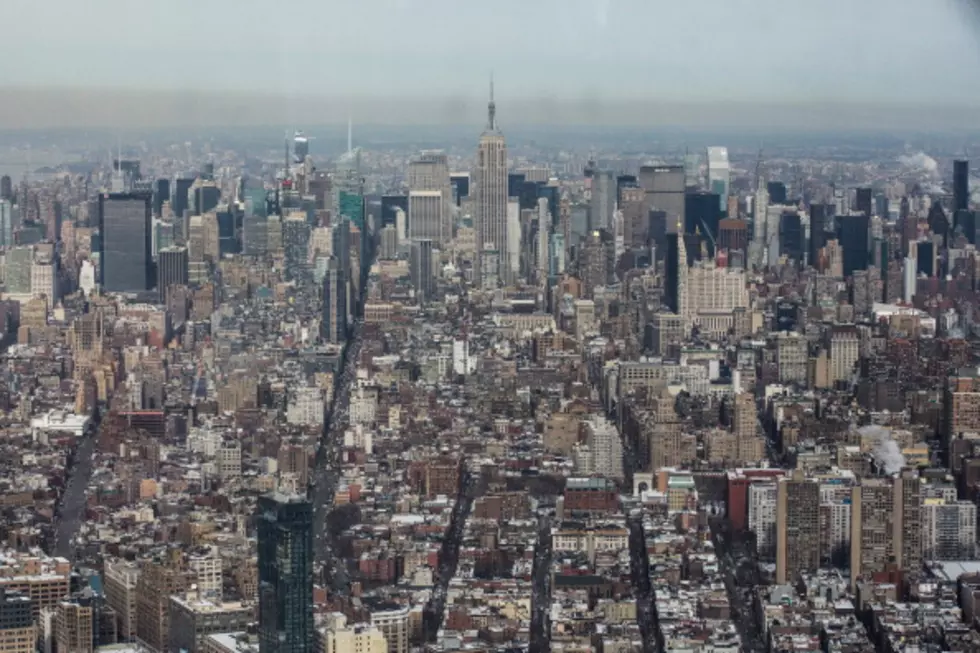 Building Explosion at 116th Street and Park Avenue in Harlem [VIDEO] [UPDATED]
Photo: Andrew Burton, Getty Images
Latest reports coming from the scene of an explosion in New York City say that the explosion was not the result of an act of terrorism.
Update: 03/12/2014 12:00pm: Fox News Radio reports death toll now at two.
Update: 03/12/2014 11:21am The New York Times is reporting that one person is confirmed dead.  Authorities say more reports of fatalities are expected.  Neighbors have been helping to carry others out of buildings and out of debris.  More than 150 firefighters are said to be on the scene.  At least two dozen firefighters are working, some with buckets, to remove debris.  Large plumes of white smoke are coming from the debris field and manhole covers in the area.
Update: 03/12/2014 11:14am Water is still being sprayed on the fire but most of it appears to be extinguished.  Smoke is still billowing from the site where the building once stood.  One witness, identified as "Michelle," tells reporters from PIX 11 that she had smelled gas "for days" but she was unable to determine the location or origin of the smell.  The debris from the fire spans several blocks.  Emergency responders are trying to collect that debris and clear it from the roadways.
More videos from witnesses to the explosion are being posted via social media. Here is one from POZAPAPO *HD* on YouTube:
)
Update: 03/12/2014 11:02 Authorities say mass transit in the area will remain closed until further notice.  The latest report states that sixteen people have been injured, four seriously.  The New York Fire Department is still trying to put out the blaze.  Harlem Hospital is serving as the local trauma center.  The search for victims continues.  Mayor Bill De Blasio is en route and is expected to hold a press conference shortly.
New York State Senator Greg Ball, Chairman of the State Senate's Homeland Security committee, issued the following statement:
"My thoughts and prayers go out to those individuals involved in this morning's explosion and building collapse in New York City. I thank and salute those first responders, citizens and law enforcement who are caring for the victims. As details still remain unclear, it is important that New Yorkers remain vigilant. We must always be alert and remember that our brave citizens are the very first line of defense. If you see something, say something. I also urge all those that travel Metro North to check train schedules, due to the proximity of the train tracks, MTA has temporarily suspended all trains into and out of Grand Central Terminal."
The following tweet is from NewsBreaker:
Update: 03/12/2014 10:51am Reporters on the scene are confirming that authorities are telling them it is a gas explosion. Witnesses say it was "raining debris."  The injured have been taken to several area hospitals.  Reports are surfacing that several residents of the area say they smelled gas prior to the explosion.  Multiple calls were made to Consolidated Edison, who responded immediately. Congressman Charles Rangel, who lives in the area, told PIX 11 in a telephone interview that he is frustrated by not being able to get more information while on the job, in committee meetings, in Washington, D.C.  He says he feels like someone who is at work and has been told that his house is on fire.
Update: 03/12/2014 10:46am Residents say the space where the building was is a "black hole."  Witnesses interviewed say they could feel the ground shakes as far as two blocks away.  Windows shattered in nearby buildings and residents from the surrounding area are being evacuated.
Update: 03/12/2014 10:40am The fire has been upgraded to a five-alarm fire.  As of this hour it is an "active" fire.  Between four and eleven people are in the hospital as a result of the explosion.  Other residents are said to still be trapped beneath building rubble.
An explosion has been reported at an apartment building near the Metro North Train tracks in New York City.
The blast occurred just after 9:30am at 1644-1646 Park Avenue on the corner of 116th Street.  Preliminary reports indicate that at least a dozen people have been injured.  The residential building is still burning.
The blaze is being described as a 4-alarm fire.  WPIX / PIX 11 is on the scene providing live coverage.  According to PIX 11 there are survivors trapped beneath building rubble.  Emergency responders are working to assess the situation.  Con Ed, the utility company, had been called earlier for a report of a gas leak near the scene earlier this morning.
Witness video shows a building collapse.  There is no word on injuries.
The following coverage is from PIX 11 in New York City:

The Harlem and New Haven transportation lines have been suspended into and out of Grand Central Terminal until further notice.
The following video is from CBS News and WNBC via YouPoliticsNews on YouTube in Manhattan:

The New York Daily News is tweeting the following: