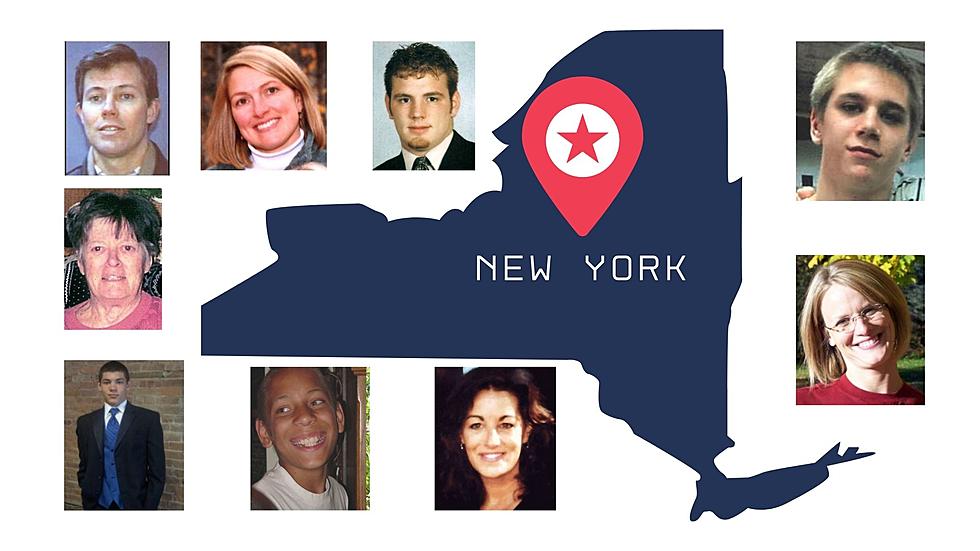 These 23 Upstate New Yorkers are Mysteriously Missing – Have You Seen Them?
Photo: https://troopers.ny.gov, Canva
There's been a lot of talks recently about "missing persons" in Upstate New York as the search for Shaker teacher Meghan Marohn enters its third week and our thoughts continue to be with friends and family of the 42-year-old who went missing in the Berkshires at the end of March.
In addition to her safe return, it's also worth acknowledging the brave efforts of  Massachusetts and New York law enforcement who continue to search for her in the rough, mountain terrain.
It goes without saying that a Missing Person can be one of the toughest cases for law enforcement to crack.
Despite surveillance, K9s, forensics, cell phones, and highly trained land navigators, many people who go missing, unfortunately never return home.
The NYS Bureau of Criminal Investigation lists all missing persons in the State of New York on their website.
But we've narrowed down the search to 23 people who have gone missing in or around Upstate New York since 2000.
According to State Police, each circumstance indicates a strong possibility of foul play and the victim is still missing.
*If you have relevant information, send an e-mail message to New York State Police CrimeWatch/Crime Tip.  Be sure to include your name, address, and telephone number
List of Upstate New Yorkers Reported Missing Since 2000
Abandoned Camp in Upstate NY Gives Off Major Horror Movie Vibe
A hiking trail between Syracuse and Rochester in Upstate New York is a favorite for thrill-seekers because you can wander through an eerie girl scout camp, abandoned 30 plus years ago.
WARNING: Under no circumstances should you enter this property. By doing so you risk bodily harm and/or prosecution for trespassing on private property.
More From WDOS-WDLA-WCHN CNY News