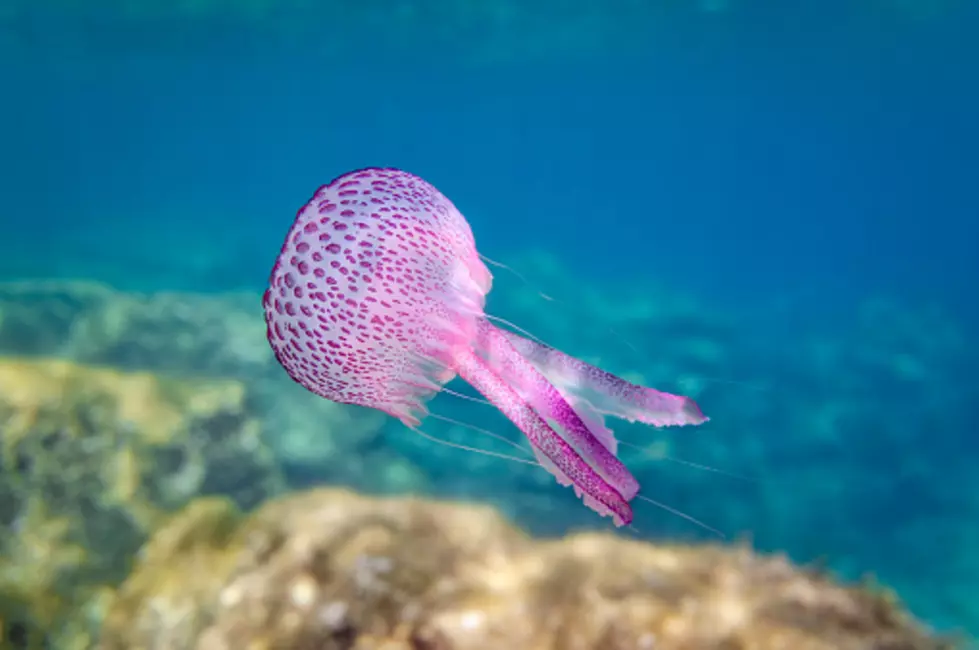 OUCH! Deepwater Jellyfish Sting Hundreds On New York Beaches
Getty Images
It has not been an easy summer swimming on the white sandy beaches of Long Island this year. Six people were bitten by sharks in a little more than a two-week span. The painful swimming experience continued on Sunday at Jones Beach State Park and Robert Moses State Park, thanks to a marine organism called a Pelagia Noctiluca.
The purple glowing jellyfish, that is normally found in the ocean depths, rarely comes close to shore. However, winds and tides can easily push "blooms" of the species close to shore. According to ocean.si.edu, Pelagia Noctiluca in German means "night light." This is a reference to reddish coloring and its bioluminescence, glowing at night. Some call them the "Purple Stinger." Just because it's pretty, doesn't mean it isn't painful.
"We literally had thousands along the shoreline here at Robert Moses State Park," George Gorman, Long Island regional director for state parks said during an interview Monday on the beach with Vera Chinese of newsday.com. "They were right here so the people were interacting with them and they got stung." Do the stings hurt? I have been stung by jellyfish a few times and it hurt most times. Apparently, these from the mauve stinger caused welts and inflammation. "If it was a mild sting they wouldn't have come to the first aid station," Gorman added.
This appears to be very rare occurrence. According to Paul Bologna, director of the marine biology and coastal sciences program at Montclair State University as quoted in newsday.com, mauve stingers are native to the region, but typically live in deeper water, far from shore. This species is more commonly seen in the Mediterranean Sea and the Gulf of Mexico. "I have found a few isolated mauve stingers over a decade of working with jellyfish in the mid-Atlantic region," Bologna said. "This is an extremely rare event."
According to reports, the painful jellyfish left as quickly as they came. George Gorman, Long Island regional director for state park said that they appeared to move farther out to sea the next day and comparatively no one had sought help for a sting by early afternoon on Labor Day. That's good news for beach-goers trying to get in those last swims of summer!
The 10 New York Giants You Need To Know In 2022
The New York Giants roster is thin. New general manager, Joe Schoen and new head coach, Brian Daboll need these key players to perform well to in order to improve upon last season's dismal 4 win campaign.
2022 Capital Region Concert Calendar
Updated regularly so keep checking back!
More From WDOS-WDLA-WCHN CNY News