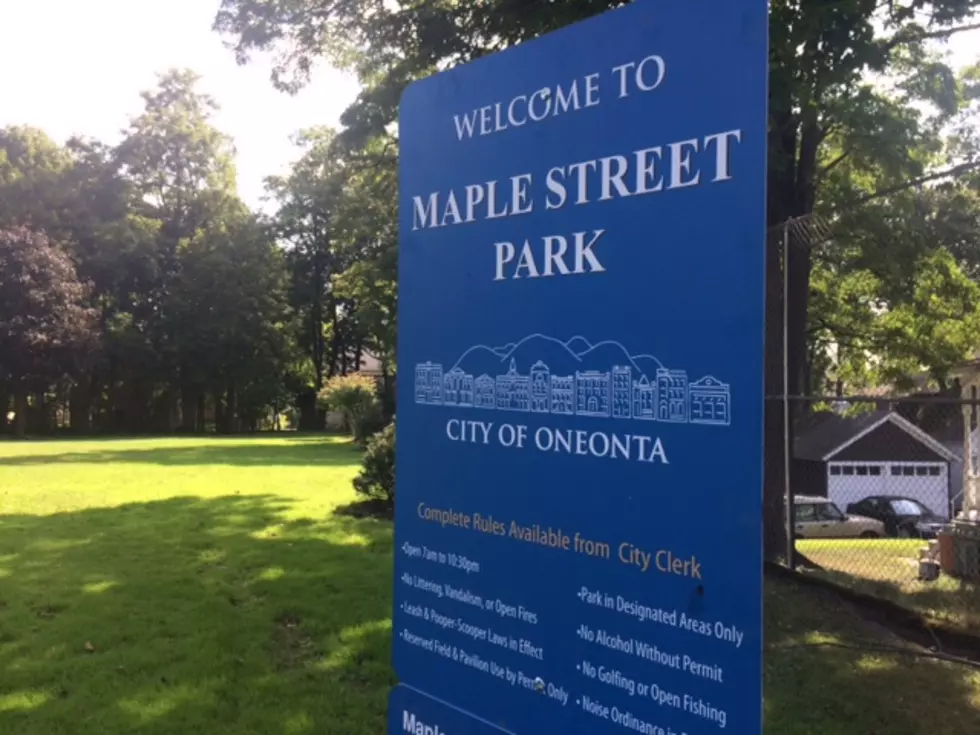 Oneonta Park to Celebrate 25th Anniversary on September 2
Staff photo
Oneonta mayor Gary Herzig will join the Oneonta Garden Club at the Maple Street Park to celebrate it's 25th anniversary on September 2, 2017 at 2:00 pm.
The park is located at the top of Maple Street near the old Bugbee School campus.
It was a playground until 1977 when it was abandoned. The state sold it to the city for $1. In 1988, there were plans to fix it up but the donor moved away before the plans were carried out. In 1991, a fraternity at SUCO cleaned up the garbage but the old playground base remained. In 1992, Brian Arenella read about the park and took up the idea of creating a green space as an Eagle Scout project. In 1993, the project began with Mayor Brenner planting a tree. Brian had to coordinate the massive undertaking by getting volunteer landscapers, and money donations, foundation money and city funds. Park benches were placed in the park along with bushes and in the center of the park, a donated red oak. Brian frequently visits his mother and swings by the Maple Street Park.!
!
Since then, many additions have been made. The garden club started the flower bed
and has worked on it for 24 years. The city has planted trees, removed dead trees, and
added a beautiful brick walkway. The smoke bushes were given to the garden club as
well as the hydrangeas. Memorial bushes have been added by garden club members
and the community. The Dorothy Bloom bench was added recently. !
!
Norma Lee Havens has lovingly cared for the garden for all these years with some
assistance from club members. When working in the garden, people will stop and tell
us how lovely the garden is. The city mows and foundation money provides some work
with taking care of mulching the trees. Each year a beautiful mulch is provided by the
city for use around the trees, bushes and in the garden. It was a playground until 1977 when it was abandoned.  The state sold it to the city for one dollar.  The park sat empty and neglected for years, gathering weeds and garbage.  The park began it's renaissance in 1993 when a project to restore the park to its natural beauty began with then mayor David Brenner planting the first new tree.
All are invited to attend the festivities.
More From WDOS-WDLA-WCHN CNY News