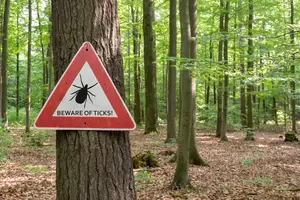 OCCA Mohican Farms Presents Program on Ticks and Lyme Disease
Getty Images/iStockphoto
The Be Informed Lecture Series kicks off its 2019 season with an encore presentation of 'Ticks & Lyme Disease' on Wednesday, February 20, 2019, at 6:30pm. The program will take place in the Embury Room at the First United Methodist Church of Oneonta, 66 Chestnut Street. The program is free and open to the public.
A joint program of OCCA and Mohican Farm/The Clark Foundation, The Be Informed Lecture Series was started in 2016 and presents quarterly programs on environmental topics. Other dates and topics include Making a Meadow (May 15); Beekeeping (August 21), and Invasive Species (November 20.)
'Ticks and Lyme Disease' will feature two speakers. Dr. Carmen Greenwood, Associate Professor at SUNY Cobleskill, will discuss the biology and ecology of ticks, particularly the black-legged, or deer tick (Ixodes scapularis), which transmits Lyme and other diseases. Following Dr. Greenwood, Otsego County Communicable Disease Coordinator, Theresa Oellrich, RN, will discuss the specifics of Lyme disease, including its health impacts, treatment and prevention, and what to do if bitten by a tick.
Bob Sutherland, manager of Mohican Farm for The Clark Foundation, said, "Understanding the life cycle of ticks and their habitat needs and preferences can help us manage the landscape to avoid them."
A bacterial infection spread by bites from previously-infected black-legged ticks, Lyme disease cases have skyrocketed nationwide. Lyme symptoms include fever, headache, fatigue and a characteristic 'bullseye' rash. Left untreated, infection can spread to joints, the heart, and the central nervous system, leading to long-term complications.
"Lyme disease is a serious health issue that can affect us all, not just outdoorspeople," said Leslie Orzetti, OCCA's executive director. "And they can be active almost any time of year, not just spring and summer."
For information about the Be Informed Lecture Series, visit occainfo.org.
Founded in 1968, OCCA is a private, non-profit membership group dedicated to promoting the appreciation and sustainable use of Otsego County's natural resources through education, advocacy, resource management, research, planning and practice. For more information on OCCA, or to donate, visit www.occainfo.org.
Mohican Farm is part of The Clark Foundation. Its mission is to promote sustainable activities within The Clark Foundation, the community, and Otsego County.
More From WDOS-WDLA-WCHN CNY News