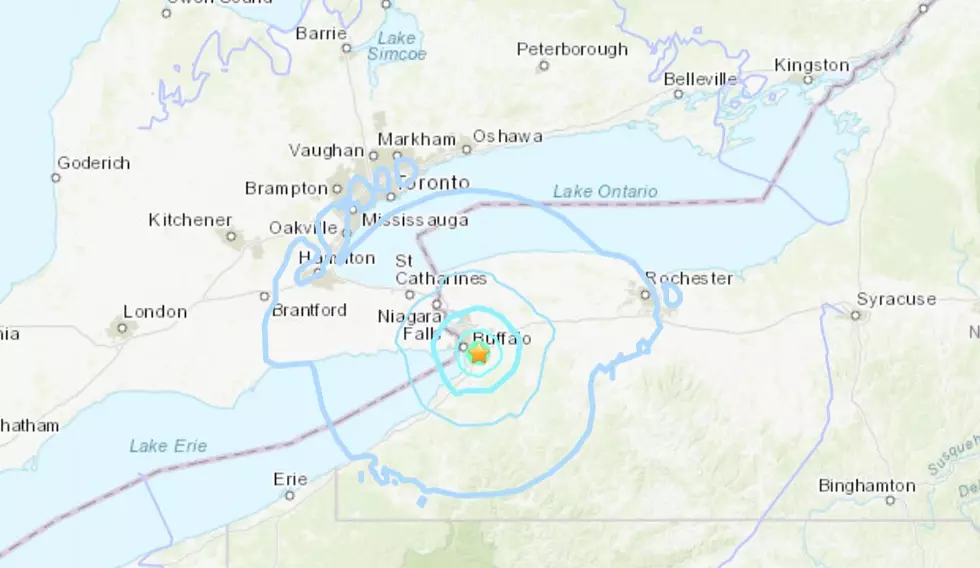 February 6th 2023 Starts Off With An Earthquake In New York State
USGS
It looks like early morning February 6th 2023, New York State felt an Earthquake.
UPDATE 7:50AM
According to the U.S. Earthquake Notification Service, it was a 3.8 magnitude:
Locations reporting the earthquake:
Cattaraugus County
Seneca Nation
Lackawanna
Marilla
Olcott
Lovejoy
Depew
Amherst
East Amherst
Lancaster
Hamburg
Cheektowaga
Downtown Buffalo
South Buffalo
Getzville
Wilson
Porter, Northeast Lake Ontario
Ontario

 
UPDATE 6:56AM
The National Weather Service reports "At about 6:15 a.m. EST today, an earthquake was felt strongly by many people in the Buffalo, NY area. It is unknown yet if there is any damage from the earthquake."
According to WIVB, the epicenter of the earthquake was located 1.3 miles east northeast of West Seneca.
ORIGINAL STORY
As of 6:22AM, and Earthquake alert was sent out from the Android Earthquake Alerts System:
There are reports of shaking in the West Seneca area. Check back soon for more information from official sources."
We will update you when more information becomes available.
According to Earthquakes Canada the event was reported at 6:15AM . Here's what they are reporting:
The last time the Buffalo area felt an earthquake was 10 months ago on Tuesday, March 15th with a 2.6 magnitude quake reported in Warsaw, New York.
Hundreds dead after powerful 7.8 Quake
We aren't sure if this is related to the Buffalo area quake or not, but the New York Post is reporting that more than 1,300 people have been confirmed dead after a massive 7.8-magnitude earthquake rocked southeast Turkey and Syria on February 6th:
The earthquake's center struck an area about 20 miles from Gaziantep, a major city and provincial capital 60 miles from the Syrian border, according to the US Geological Survey. It was centered 11 miles deep and was followed by a strong 6.7-magnitude aftershock about 10 minutes later."
You can read more on that story online here.
Strongest Tornados To Ever Touch Down In New York State
Generally speaking, tornadoes aren't a common occurrence in New York state. Tornados do still happen. Here's a look at some of the strongest storms:
More From WDOS-WDLA-WCHN CNY News