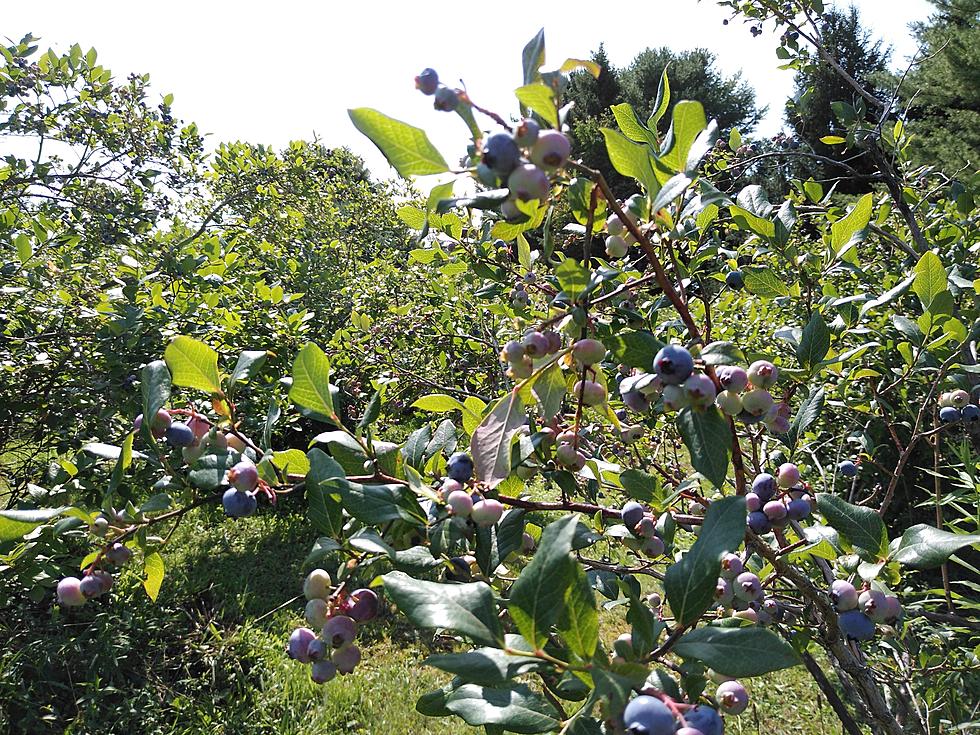 Blueberries Are In Season Now: Best Otsego County U-Pick Farms
TSM Oneonta
Do you love blueberries as much as I do? They can be expensive in the grocery store so I love to get out and go blueberry picking during the season which just opened up thanks to warm temperatures.
My favorite place to go is a local U Pick'm Blueberry farm, Otsdawa Berry, just outside of Otego, NY to load up on delicious blueberries. I always make sure to get up early and be the first one there to get first dibs on the best bushes.
If you happen to have a freezer that can hold several pounds of blueberries then I recommend loading up since you can't beat the price and quality of blueberries you pick yourself. It's amazing how quickly, especially if you have a partner, you can get five or more pounds picked. It only takes me and my husband about an hour to get around 7 pounds picked!
Don't hesitate to get out there. It's best to follow a Facebook page of your favorite place to pick berries so that you can get up-to-date on picking but keep in mind, don't hesitate to get out there because the season will end quickly after perhaps 3 or 4 weeks.  I know that Otsdawa Berry has a facebook page and you can also get on an email list for updates, which I have done. It makes it easy to keep track of when it's best to pick. Area residents can also have a U-pick-em experience at Ingalls Blueberry Hill outside of Milford, NY.
Keep in mind that blueberries are one of the most delicious and nutritious berries that exist! The great thing is, there are so many yummy ways to enjoy them. They are great on cereal; in pancakes; with plain yogurt; in a smoothie; on ice cream; baked in a muffin, pie, or other yummy desserts; and of course, they are delicious all by themselves!
And if you're wondering how long will the blueberries last after picking? According to eatbydate.com, if you just let them sit out at air temperature, they only last a couple of days. If you put them in the refrigerator (especially the crisper drawer), they'll be good for up to 10 days. Freezing them is best for longevity since the berries will be good for up to 8 months before deteriorating.
Look: Treasure Hunt At 12 Consignment and Thrift shops in Otsego County
Thrift and consignment shops have become very popular over the years and continue to gain in popularity since you can find some amazing clothing items or treasures that you just have to have. "Sky's the limit" on what you can find at any one of these awesome shops in Otsego County. Happy treasure hunting!
12 Great Ice Cream Stands in Upstate New York to Satisfy Your Sweet Tooth
What better way to celebrate this popular dessert and taste treat than by stopping by these fantastic dozen ice cream stands! Enjoy!
Yummy! New York's 'Sandwich Hall of Fame' Welcomes 13 Classics!
Is there a New York Sandwich Hall of Fame.? Well, there is now! and you are looking at it. OK, so I made it up, but you will be hard-pressed to argue with the choice of any of these winners. Check out this list of 13 classic, historic and beloved sandwiches all with a strong New York DNA.
More From WDOS-WDLA-WCHN CNY News