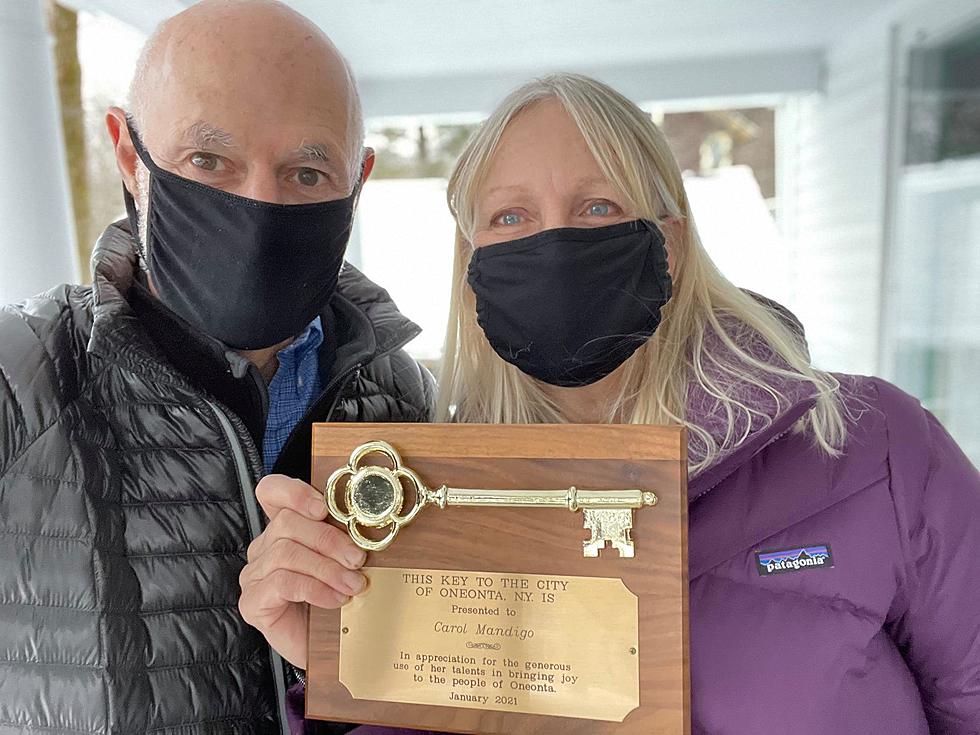 Oneonta Mayor Herzig Awards Coveted Key to The City
Mayor Gary Herzig and Carol Mandigo (Credit: Gary Herzig, facebook)
A woman who has worked tirelessly to bring plenty of enjoyed events to Oneonta has received a key to The City of Oneonta from mayor Gary Herzig. Carol Mandigo, who is a Prevention Specialist at Leatherstocking Education on Alcoholism/Addictions Foundation (LEAF Inc.), along with being an artist and a puppeteer, was given this coveted award in recognition of all of her hard work in the community.
Herzig posted the following on his facebook page...
Congratulations and Thank You to Carol Mandigo.
She is so generous with her talents for the people of Oneonta -bringing us murals, parade puppets, the Festival of Lights, First Night, Hometown Fourth of July and more. She is an inspiration to all of us.
In my opinion, after seeing Carol in action, volunteering her time and having interviewed her several times, she is very deserving of this recognition. Ironically, she is a modest person who never seeks recognition for her work which I think makes her all the more deserving of The Key to the City. I laud her especially for her hard work on putting together and helping maintain the Oneonta Festival of Lights in Oneonta's Neahwa Park this holiday season. A big thank you for bringing that wonderful event to our area residents who all needed something as uplifting as Festival of Lights. My family and I loved it. A Job well done Carol Mandigo!
How Many in America: From Guns to Ghost Towns
Can you take a guess as to how many public schools are in the U.S.? Do you have any clue as to how many billionaires might be residing there? Read on to find out—and learn a thing or two about each of these selection's cultural significance and legacy along the way.
More From WDOS-WDLA-WCHN CNY News