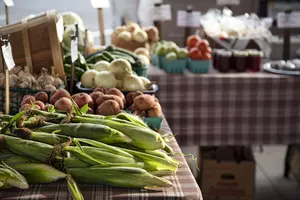 Farmers Market $20 Coupons Available in Delaware County
YovoPhoto
Farmers Markets and participating Farm Stands are now open to provide farm fresh fruits and vegetables for good health and nutrition. Again this year, Delaware County senior citizens may take advantage of the Farmers Market Coupon Program to receive twenty dollars ($20) worth of free New York State grown produce. These coupons can only be used for locally grown fresh fruits and vegetables, no baked or processed foods (including honey), at participating vendors. Delaware County Office for the Aging will coordinate the distribution of the booklets for households of eligible seniors.
To be eligible for Farmers Market Coupons, a person must be:
1) A senior (age 60 or older);
2) AND a NY state resident;
3) AND have an income that meets one of the following criteria:
· a one person household with a gross income of $1,968 or less per month,
· a two person household with a combined gross income of $2,658 or less per month,
· a three-person household with a combined gross income of $3,349 or less per month,
· OR currently receiving or be eligible for SSI, public assistance or Section 8 housing subsidy.
Each older adult in a household is eligible to receive one coupon booklet if they meet the age and income requirements. At the markets, coupons can be redeemed by caregivers/others if the recipient is unable to shop in person.
If eligible, stop by the Delaware County Office for Aging, 97 Main Street, Delhi or contact Yvonne Brock at (607-832-5750) to see if alternate arrangements can be made. Coupons can only be used during the current program year from June 1 – November 30, 202