Video Released Of Plane Crash in Afghanistan Outside Bagram Airfield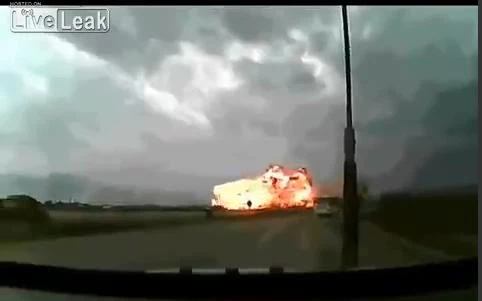 A video is being released of a plane crash outside the Bagram Air Base in Afghanistan on Monday, April 29, 2013. The base is home to the United States Air Force's 455th Air Expeditionary Wing.
All seven American crew members on board Flight NCR102 were killed. The plane, a Boeing 747 operated by Orlando, Florida-based National Airlines, was carrying cargo and vehicles and several sources are reporting that no passengers were on board. It was on its way to Dubai.
The National Transportation Safety Board and Afghanistan Civil Aviation Authority are investigating.
The victims have been identified as:
Jamie Brokaw (Michigan)
Timothy Garrett (Kentucky)
Brad Hasler (Michigan)
Jeremy Lipka (Michigan)
Michael Sheets (Michigan)
Gary Stockdale (Michigan)
Rinku Summan (Michigan)
Although the cause of the crash has not been determined, CNN is reporting that the Taliban is claiming responsibility, saying also that "several foreign soldiers were killed."
In a written statement on its website the company says it will "release additional information as it becomes available."
Video of the crash appears below:

Source:
Video Released Of Plane Crash in Afghanistan Outside Bagram Airfield